Breaking Down the 2023 E/M Prolonged Service Guidelines into Digestible Nuggets with Scenario Examples (Part 3 of 3)
by Mrs. Jay, Curriculum Director of Absolute Medical Coding Institute.
Mastering Prolonged Services Coding: A Guide to 99415 and 99416
Healthcare providers often spend more time with patients than anticipated due to their complex medical needs. In these situations, it's crucial to understand the billing and coding guidelines to ensure fair reimbursement for the additional time and effort. This blog post will delve into prolonged service codes 99415 and 99416, designed to address such situations. We'll discuss the specific requirements for using these codes and tips to ensure accurate and compliant billing.
Understanding Prolonged Services Codes 99415 and 99416
What are Prolonged Service Codes 99415 and 99416?
Prolonged service codes 99415 and 99416 are used by supervised clinical staff to report additional time with a patient beyond the typical duration for a specific service. These codes are meant to be used with primary Evaluation and Management (E/M) services to represent the extended time spent on a patient's care. For clarity, I want to define the following before continuing:
Clinical staff – medical assistants, licensed practical nurses, registered nurses, technicians, and others who are supervised by physicians or Qualified Healthcare Professionals (QHPs)
Primary E/M service – Services carried out by the physician or QHP during the same session as the clinical staff
Typical duration/time – The time the clinical staff typically spends with a patient for a particular level of service.
Prolonged clinical staff time – The time beyond the typical duration/time
The code language for 99415 and 99416
99415: Prolonged clinical staff service (the service beyond the highest time in the range of total time of the service) during an evaluation and management service in the office or outpatient setting, direct patient contact with physician supervision; first hour (List separately in addition to code for outpatient Evaluation and Management service
99416: Each additional 30 minutes (List separately in addition to code for prolonged service)
When to Use Prolonged Service Codes 99415 and 99416
Prolonged service codes are justified when a supervised clinical staff member spends 30 minutes beyond the highest typical time for a particular level of service. In 2023, CPT has developed a typical time chart (below), and each primary level of service code has a documented typical time. When 30 minutes beyond the typical time occurs, then that is when prolonged time begins (99415). Using the chart below, if the primary level of service code is 99202, the typical time is 29 to 58 minutes. When the time reaches 59 minutes ( 30 minutes beyond the typical 29 minutes), prolonged time begins.
In the same example below, 99416 is used when the time for 99202 reaches 104 minutes.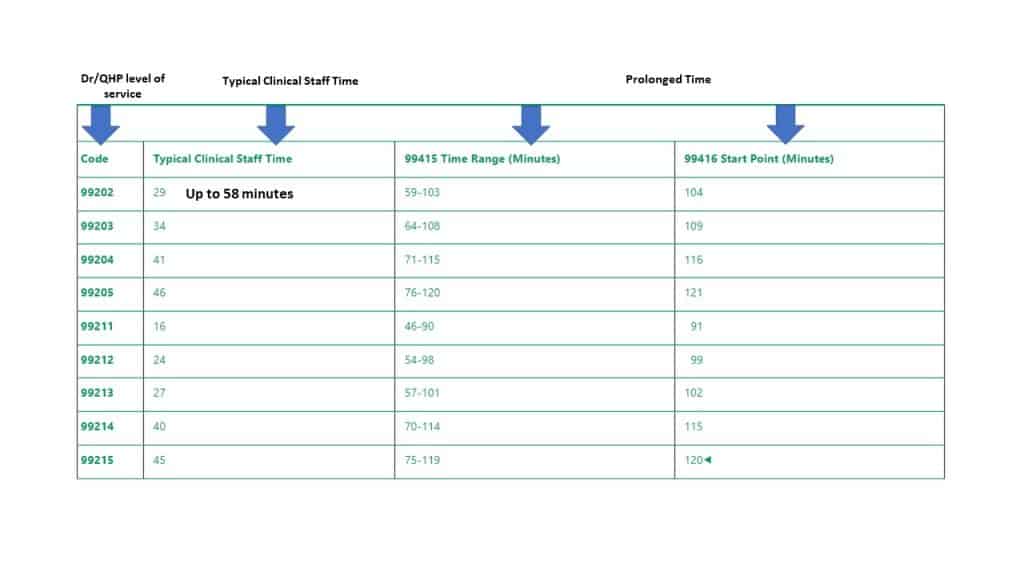 Remember that the typical time chart above is not used if the prolonged time is specified in the documentation because using the chart can produce an incorrect result. The provider could lose the prolonged time they have earned. The reason this occurs, there is a presumption that the typical time has been considered when the provider only documents their prolonged time. E.g., If the clinical team documents a prolonged time of 75 minutes for a level 4 established patient primary service encounter, if we use the typical time chart, then 99214 and 99415 would be coded. However, if going directly to the code series, the encounter would be coded 99214, 99415, and 99416. This difference occurs,, because there is a span of time (30 minutes) between the typical clinical staff time of 40 minutes and 70 minutes, and there is no way to determine the exact typical time. We do not know if the nurse spent 40 minutes or 50 minutes of the typical time with the patient, but we DO know that the clinical staff spent 75 minutes of PROLONGED time, which is 99415, 99416. Also, the guidelines surrounding code 99416 direct coders to code 99416 when the final minutes are between 15 and 30 minutes.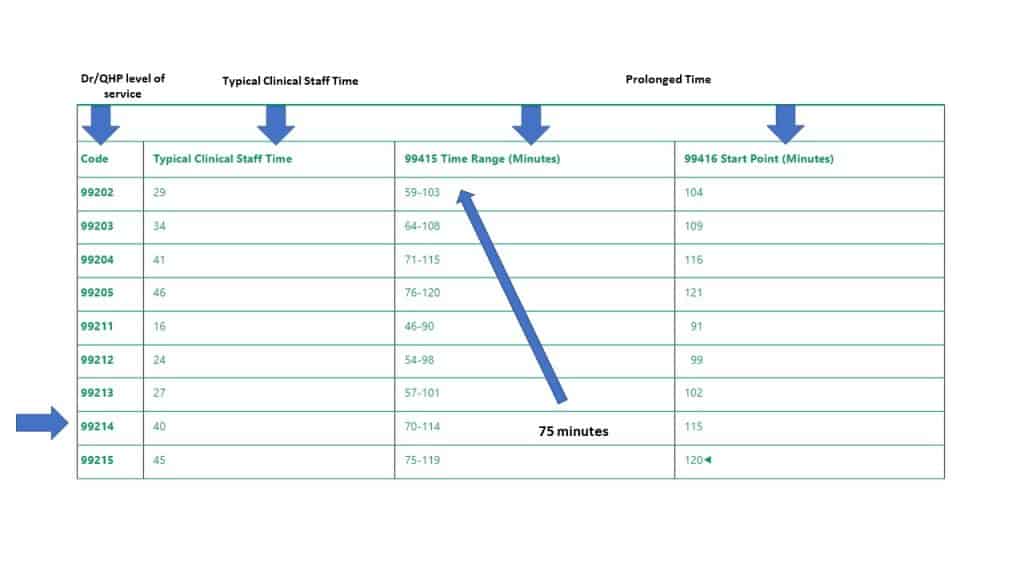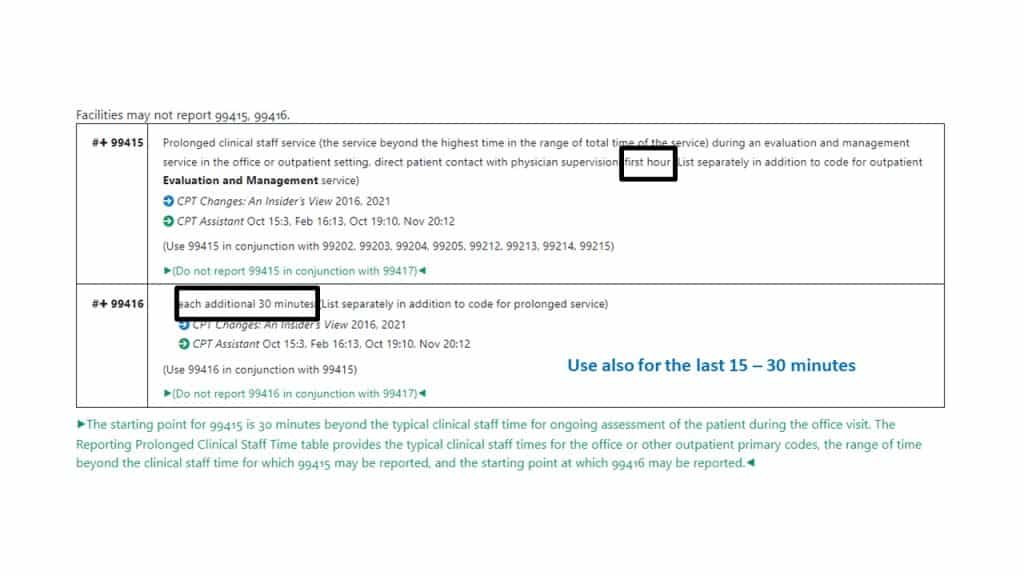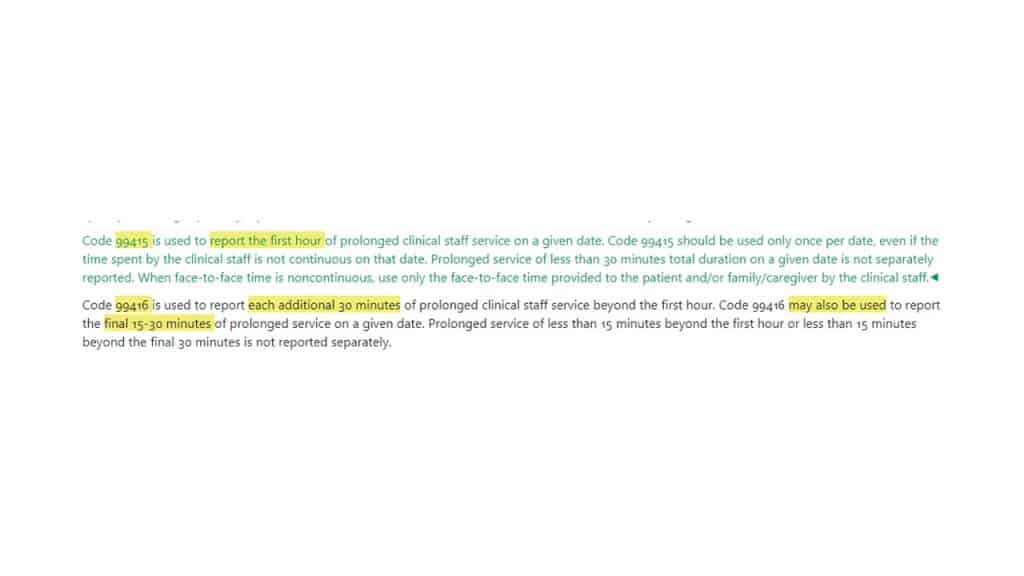 Key Guidelines pertinent to 99415 and 99416
Prolonged service codes 99415 and 99416 are used for face-to-face clinical staff supervised by Drs/QHPs time.
Prolonged service codes 99415 and 99416 are used in addition to a primary E/M service code.
Prolonged service is not coded for a time less than 30 minutes.
Code 99415 may be used when 30 minutes to 1 hour of prolonged time has occurred.
When the total time is documented for the supervised clinical staff, use the typical time chart to determine the prolonged time.
Prolonged service codes 99415 and 99416 may not be used with 99416 and 99417
99416 may be used when the final prolonged minutes are at least 15 minutes
Application to Practice:
Scenario #1:
Dr. Sanchez, a primary care physician, has a follow-up appointment scheduled with Mr. Jacobs, a 65-year-old patient with a history of uncontrolled diabetes, hypertension, and recently diagnosed peripheral neuropathy. The physician carried out a medically appropriate exam with low MDM; however, given Mr. Jocob's complex medical history, Dr. Sanchez asked his LPN to provide instruction on ways for the patient to manage his condition at home, which includes soaking in Epsom salt, compression socks, rest, ice, daily feet checks, massaging, application of anesthetics, and alcohol avoidance. The nurse spent a total of 55 minutes with the patient. Code the encounter: _________________________
Rationale: 99213 is the answer. The doctor's visit has a low MDM for the established patient; thus, the code is 99213, and no prolonged time for the nurse is coded; the nurse's total time spent during the encounter (55 minutes) falls within the typical time range for a 99213 level of service.
Scenario #2:
Dr. Xia provided a medically appropriate history and exam with moderate medical decision-making (MDM) during John's follow-up visit for diabetes. Nurse Johnson, an RN, spent a total of 130 minutes of total time with John, including addressing complex medical issues and developing and coordinating daily management plans with the patient. Code for the encounter?
Rationale: 99214, 99415, 99416×2. Moderate MDM level of service is coded to 99214. If the nurse spent 130 minutes with the patient, according to the typical time chart (above) for the level of service, 99214, 99415, and 99416 are used for up to 115 minutes. If you subtract the total minutes (130) from 115 minutes, we are left with 15 minutes. 99416 is permitted if there are any remaining minutes of at least 15 minutes.
Proper Documentation for Prolonged Services 99415 and 99416
To accurately and compliantly bill for prolonged service codes, healthcare providers must maintain detailed documentation that supports the additional time spent on patient care. This documentation should include the following:
The total duration of the visit, including the start and end times
A clear explanation of the medical necessity for the extended time, including the complexity of the patient's condition or the need for additional counseling, coordination of care, or treatment planning.
A description of the specific activities performed during the additional time.
Confirmation that the additional time was spent under the direct supervision of the billing physician.
Conclusion
Prolonged service codes 99415 and 99416 provide a means for practices to be fairly compensated for prolonged time spent by supervised clinical staff. By understanding the requirements for using these codes and maintaining accurate documentation, providers can confidently bill for these services and ensure they receive appropriate reimbursement.